Monday, December 13, 2021 - 09:15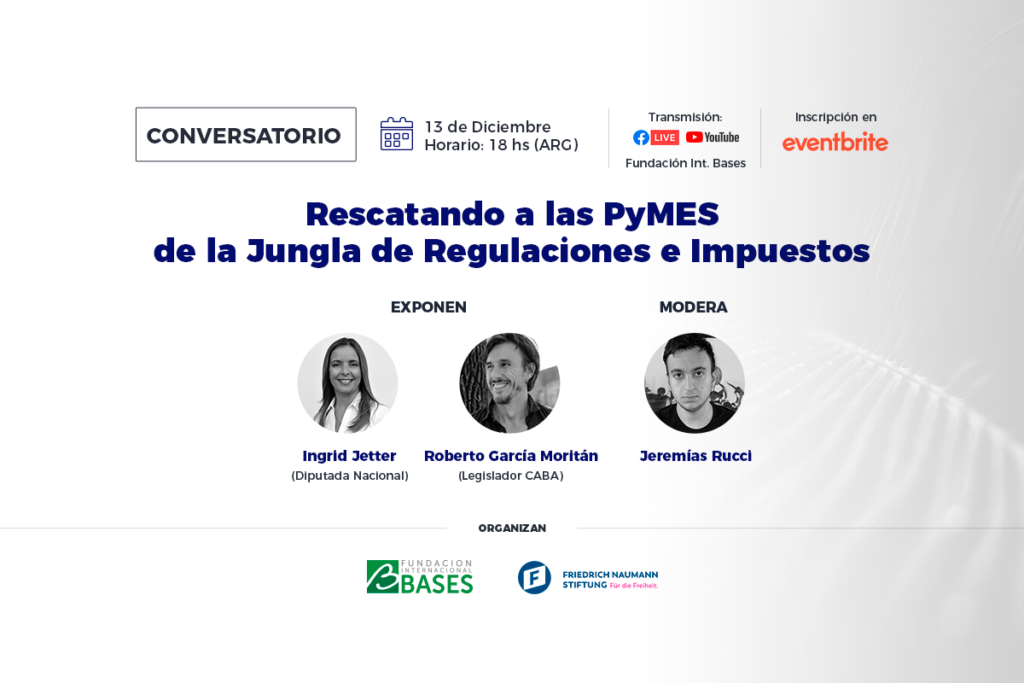 Conversation «Respecting SMEs from the Jungle of Regulations and Taxes»
Date: 12/13
Time: 6 p.m. ARG
Transmission Via Facebook Live and Youtube of the International Foundation Bases
Registration in Eventbrite at https://bit.ly/PyMEsARG 
They expose: 
Ingrid Jetter
National Deputy
Roberto García Moritán
Legislator CABA
Moderator: 
Jeremiah Rucci
They organize: 
International Foundation Bases
Naumann Argentina Foundation
About the Exhibitors: 
Ingrid Jetter is a national deputy for the province of Corrientes. He is also president of the Pensar Corrientes Foundation. By profession, she has a degree in Political Science, and in the past she served as mayor of the Municipality of Riachuelo (Corrientes). In networks you can find it on Instagram , Facebook , Twitter at @IngridJetter and on the official website of the Argentine Congress.
Roberto García Moritán is an economist from the Universidad del Salvador (USAL), an entrepreneur, a prominent restaurateur and a legislator for the Autonomous City of Buenos Aires.  In networks, he can be followed on Instagram and Twitter . 
About the Moderator: 
Jeremías Rucci is studying Law. She is part of the International Bases Foundation Team focused on organizing online events. He was also a member of Students for Freedom between 2019 and 2021, where he served in his first year as a volunteer and later as a local coordinator. There he held online events with figures such as Domingo Cavallo and Alberto Benegas Lynch (h). He was also responsible for the tribute to Juan Carlos Cachanosky carried out by ESLibertad.